by Heather Furey
Well, this cruise has been singular – definitely the best weather for deployments and recoveries that I have experienced while at sea. I've been noticing the things folks do in their spare time. Every cruise is different; every cruise has a different feel to it. The different people and personalities and work experiences coalesce into a singular experience.
On this cruise, I have learned that I am not awful at crosswords! Every day, Collin Dodson prints out a stack of the most recent New York Times crosswords, and people work on them through the day.
Dave Wellwood has a disco ball in his salt lab, and music.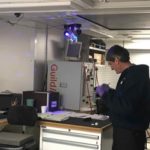 Keenan Foley has been trying to keep a stowaway bird alive by providing it a little bowl of water. We think it might be a juvenile Ringed Plover?
The science party made cups to shrink, a tradition. Regular sized cups, when put under great pressure – as happened when being pulled deep underwater, will shrink to cups a quarter or so of their original size. We decorate cup with sharpies and tie them to the CTD rosette cage for a ride to the bottom of the sea.
And James Kuo has been working his rope skills. It's James' birthday today, and Eric made a special cake, James (an experienced winch operator) got to run the Lebus winch and drop the last anchor on the last deployment.
The OSNAP portion of this cruise is almost wrapped up. We have had four successful mooring deployments thanks to a great crew, and we have just one more sound source mooring to recover. It is time to savor the last few days at sea, the simple skyline. Time to get things documented and submitted, work out agent and shipping logistics, to dream of fresh green vegetables, and of heading home.