Data from the OSNAP moorings, gliders and floats will be made publicly available no later than two years after the data are collected. Please refer to the OSNAP data management plan for more details regarding the OSNAP data policy and management plan. Before the use and publication of any OSNAP data, users are strongly encouraged to read the full OSNAP data policy. We draw your attention to the following excerpts from that policy:
Any person making use of OSNAP observational data and/or numerical results must communicate with the responsible investigators at the start of the analysis and anticipate that the data collectors will be co-authors of published results.
In cases where investigators choose not to be co-authors on publications that rely on their data, the parties responsible for collecting the data and the sponsoring funding agencies should be acknowledged, including reference to any relevant publications by the originating authors describing the data sets and a reference to the data set itself using its DOI.
OSNAP data are intended for scholarly use by the academic and scientific community, with the express understanding that any such use will properly acknowledge the originating investigator.
The project scientists would appreciate it if you would add the following acknowledgment to any publication that uses this data: "OSNAP data were collected and made freely available by the OSNAP (Overturning in the Subpolar North Atlantic Program) project and all the national programs that contribute to it (www.o-snap.org)."
OSNAP Timeseries
The 30-day mean MOC for 2014-2018, along with the streamfunctions, are made available across the full array, the OSNAP West and East subsections, respectively, and can be downloaded here.
The derived meridional heat and freshwater transport can be downloaded here.
The gridded potential temperature, salinity, and velocity fields at OSNAP for 2014-2018 can be downloaded here.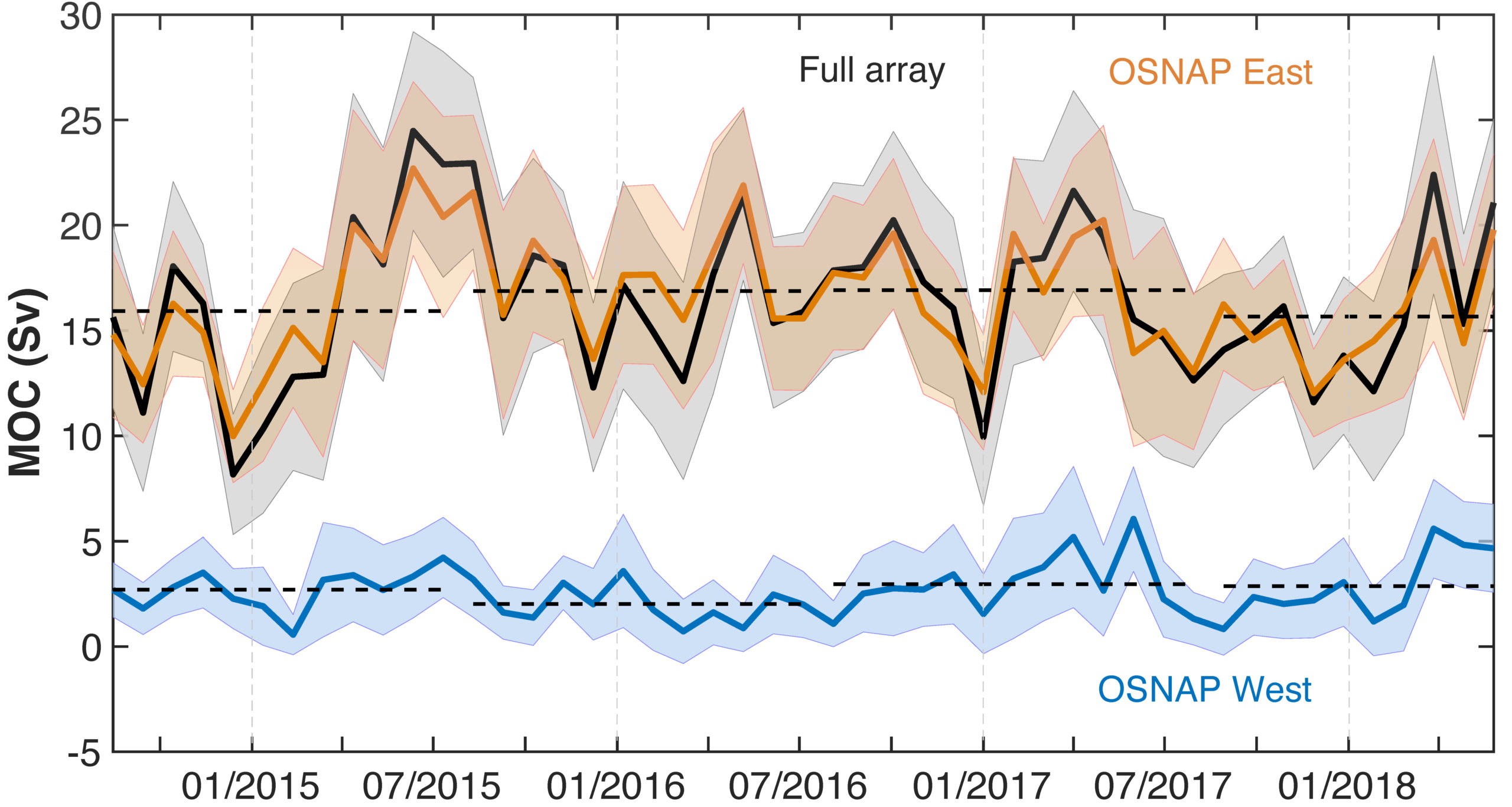 Instrument data
Calibrated and quality-controlled data from moored instruments and gliders were generated and made freely available by each participating group.
Mooring data
Canadian Shelfbreak Array
German 53ºN Array
US Labrador Sea Eastern Boundary Array
US East Cape Farewell Slope Array
UK Deep Western Boundary Current Array (Irminger Sea)
NIOZ Western Mid-Atlantic-Ridge Array
US Eastern Mid-Atlantic-Ridge Array
UK Eastern Boundary Current Array (Rockall Trough)
Glider data
Float data
WHOI RAFOS Float Data Report
CTD section data